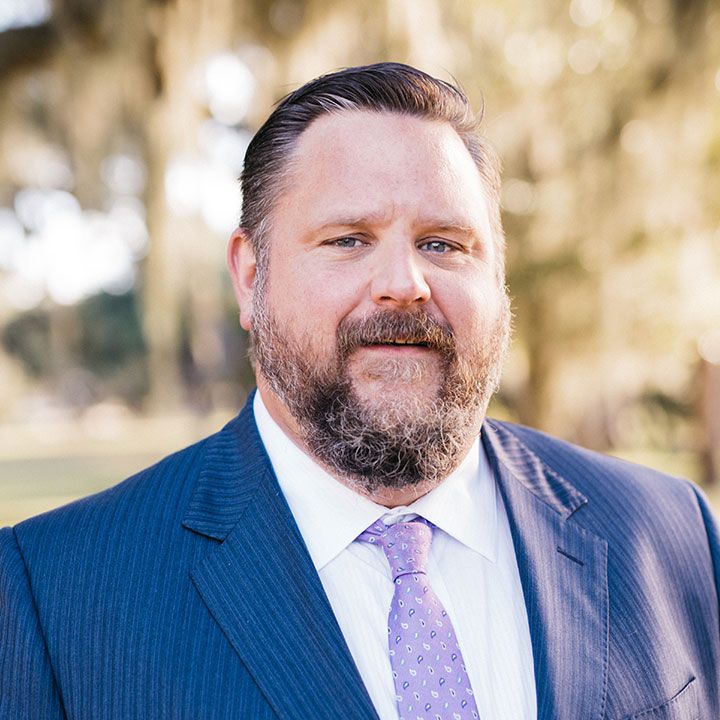 Attorney
Addison Dowling Fender
As a third-generation Beaufort attorney, I am proud to call the Lowcountry of South Carolina my home. My grandfather, Joab Mauldin Dowling, was a founding member of the Dowling & Dowling Law Firm, which stood for many years in downtown Beaufort. My uncle Joab "Jojo" Dowling Jr., and my mother Jane Dowling Fender were members of the firm. My mother left in 1994 after being elected to a Family Court Judgeship for the 14th Judicial Circuit. My father Sherwood Fender practiced law in Beaufort until his retirement several years ago, but still stops by the office frequently to offer advice and consultation. Some might say that the "law" is in my blood, and considering the amount of time I spent roaming the halls of law offices growing up, that assessment is possibly not too far-fetched.
I am a proud graduate of Beaufort High School, Clemson University and the Charleston School of Law. I spent time between college and law school gaining valuable life experience while making a living in real estate development. Upon my graduation from law school, I returned home to Beaufort and opened the doors to the Fender Law Firm. Since 2010 I have zealously represented clients in the Civil, Criminal, Probate, Magistrate and Family courts of South Carolina.
At the Fender Law Firm, my wife Tracy and I are keeping alive the Fender/Dowling tradition of providing honest and effective legal services to our clients.
Attorney
Justin Pierce
Justin Pierce is an associate attorney at the Fender Law Firm, LLC. Justin has practiced almost exclusively in family law related matters or Magistrate litigation since he joined the Fender Law Firm in January of 2019.
Justin is a dual citizen of the United States and Canada, having attended both Canadian and US higher education institutions. Justin grew up in a small town in St. Lawrence County, New York, where he graduated as valedictorian in high school. From there he attended McGill University in Montreal, Quebec, and Clarkson University in Potsdam, New York. While in undergraduate, Justin majored in Political Science and History, with minors in legal studies and business.
Justin attended the University of Denver Sturm College of Law in Denver, Colorado, where he earned his Juris Doctorate, along with a Certificate in Environmental and Natural Resources Law and a Certificate in Legal Research. During law school Justin received the Provost's Merit Scholarship in Law, was awarded numerous Scholastic Excellence Awards, and was Magister of the Brewer Inn of Phi Delta Phi International Legal Honor Society.
During his time in Colorado, Justin worked in the fields of criminal defense, administrative/governmental law, and public land law. Justin moved to Beaufort in September of 2018 to be closer to family in the area.
When not at work, you can find Justin riding his motorcycle or hiking with his girlfriend, Olivia, a dental hygienist. Justin also has two cats that enjoy sitting on his lap while he works.
Paralegal
Tracy Fender
Ive heard it said that some folks are born in Beaufort and others get here as quickly as they can. I fall into the later category. After being born in Misawa, Japan and spending my early years in Hawaii, I landed in the Low Country in the Spring of 1999 and have remained here ever since.
After arriving in Beaufort, I found my way into the legal profession and have been working as a Paralegal and Office Manager for the past 15 years.
Addison and I take pride in calling the Fender Law Firm our own and helping people through what can be one of the most difficult times in their lives.
"I absolutely love Fender Law Firm, it was the best legal experience I have ever had. The Firm worked tirelessly to exceed my expectations and help me get everything I asked for. They responded to my problems promptly with a sense of priority on their plate day or night!!! Not a day went by that I didn't feel like their only client, that's how personal they took on my case."
— ALEXANDER MORIN
"I had a very detailed custody matter. It was scheduled for an emergency hearing and on an expedited basis. Addison jumped right on the case even though it was last minute and would require at least 4 days in court. Addison was very friendly and knowledgeable. Great work!"
— AARON & MICHELLE SCARBRO
Proudly serving the Beaufort community for three generations
We bring over 25 years of experience to your case and will work patiently and tirelessly to bring you peace of mind.
Our roots run deep and date back to the Dowling & Dowling firm founded in 1941. Attorney Addison Fender continued his family's legacy in 2010 when he and his wife Tracy, one of the county's most experienced paralegals, opened Fender Law Firm. Guided by the practice's long standing values of compassion, honesty and fairness, our highly skilled team offers family legal services in the Fourteenth Judicial Circuit, including Beaufort County, Jasper County, Colleton County, Hampton County, and Allendale County. Beaufort, Blufton, Hilton Head and surrounding areas.
Book a Consultation
If you find yourself in need of Family Law representation, don't wait another day to reach out and set up a consultation. Put the experienced team at Fender Law Firm on your side to help reach your goals. Call
843-379-4888
right now, or fill out the form below.